23-24 Back to School and Open House Information
23-24 Back to School and Open House Information
August 8, 2023
Dear Lone Dell Families:
We are excited to begin a new school year, and cannot wait to welcome our students back to school on Wednesday, August 23rd.
Class Lists
Lists are being finalized and you will be able to see who your child's teacher is no later than Friday, August 18th, possibly sooner. If you have NOT completed registration, please do so immediately so we can add your student to a class list.
Open House
Open House is Monday, August 21st. Logistically, we need to spread things out to help minimize the number of people in the buildings at one time and to help with parking. From 5:30-6:30 p.m. students whose last names begin A-L are welcome to visit classrooms. From 6:30-7:30 p.m. families with last names M-Z can visit. If you have students in your family who are in both groups, there is no need to go to both, please choose between one of those options. We ask that you exit the building after your time in the classroom to make room for the next group. Please bring your child's school supplies that evening. Kindergarten parents will be receiving an email from their child's teacher this week with a video with all the details of what to expect this year. Please watch the video before attending the open house. On the night of open house, kindergarten students and their parents will have a chance to visit classrooms and drop off supplies. Please follow the above schedule and attend one of the two times given based on last name.
School Supplies
The Lone Dell Supply List can be found on the district website when you navigate to the Lone Dell school page. When you hover your mouse over "Families", the School Supplies link is located in the dropdown that populates.
School Times
Our buses begin dropping off students at 8:30. Our late bell rings at 8:50. Our buses pull away at 3:50 in the afternoon.
Morning Parent Drop Off
Please view the attached map for drop off locations. To keep traffic moving and for the safety of our students and staff we have two locations. PLEASE DRIVE SLOWLY.
Kindergarten and 1st grade drop off at the side fenced playground. We ask that you wait to drop off until 8:35, to allow our buses the chance to unload and exit the campus. If buses are still unloading, please find a parking spot to wait until the buses clear out.
2nd through 5th grade (8:35) drop off behind the building at the gym doors. If you have students in multiple grades (including K-1), please drop off behind the building at the gym doors to avoid having to wait in two lines. Multiple staff members will be there to assist students. Please have your child ready to exit your vehicle.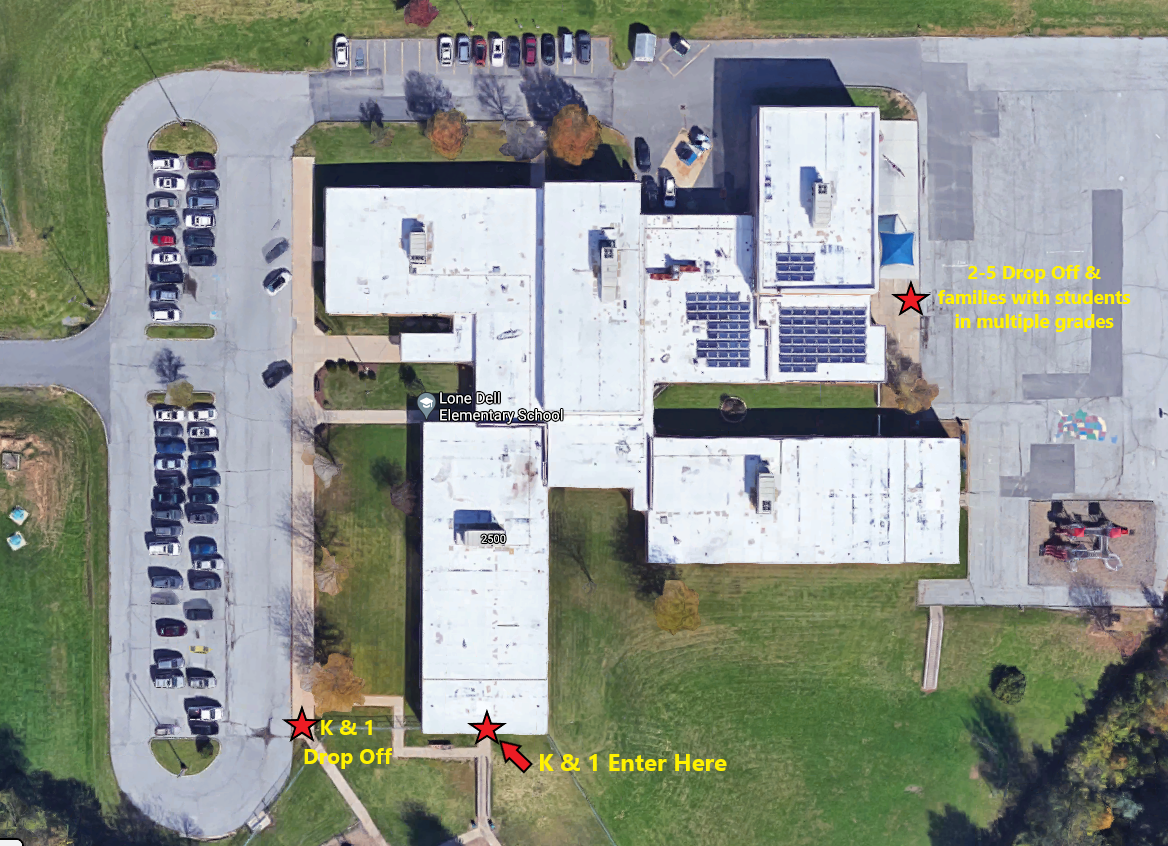 Meals
Fox C-6 School District participates in the National School Lunch and Breakfast Programs. Our team of school nutrition employees serve quality, appealing meals to all students. All meals are nutritionally balanced and adhere to the federal nutrition regulations set forth by the USDA.
This allows families the opportunity to apply for free & reduced-priced meals. Families should complete a free and reduced meal application as soon as possible for the 2023-2024 school year. Families can complete an electronic free and reduced meal application through the Infinite Campus Parent Portal either on a computer or through the Campus Parent mobile application..To access the Free and Reduced Meal application from a desktop or laptop computer, log in to the Infinite Campus, Campus Parent portal, click more", then click "Meal Benefits", and click "Meal Benefits Application" to begin. To access the Free and Reduced Meal application from the Infinite Campus, Campus Parent mobile application, tap the three lines in the top left corner of the app, then tap "More", then tap "Meal Benefits".
Should you have any questions, please contact the School Food & Nutrition Services Department at 636-282-1465.
Meal prices for the 2023-2024 school year are as follows:
Student Breakfast: $1.85; Elementary Lunch: $3.35; Milk: $0.50
End of Day Procedures and Infinite Campus Parent Portal
Please be sure to regularly update your Emergency Contacts/Allowed to Leave List in Infinite Campus Parent Portal. This is the primary way we verify who is able to pick up your child. If you need to add or remove someone from the list, please notify the office and Ashten, our secretary, will take care of it for you. Like last year, Parent Pickup will be located in the gym. Please exit the gym by going into the hallway and using the exterior doors at the end of the hallway. For safety purposes we do not allow visitors to wander the building, so please exit directly after picking up your child. There will be a staff member in the hallway monitoring the parent pick up exit. If your child forgot something from their classroom, please let the staff member on duty know and they will radio the office. We will be grouping students by last names and they will be in their respective section behind a table with staff members waiting to check your identification. Please have your identification ready to show to staff members. Occasionally, someone has to fill in and they may not know who you are. If you have children with different last names, they will be grouped together in the section of the oldest student.
The map below shows where to enter the gym doors.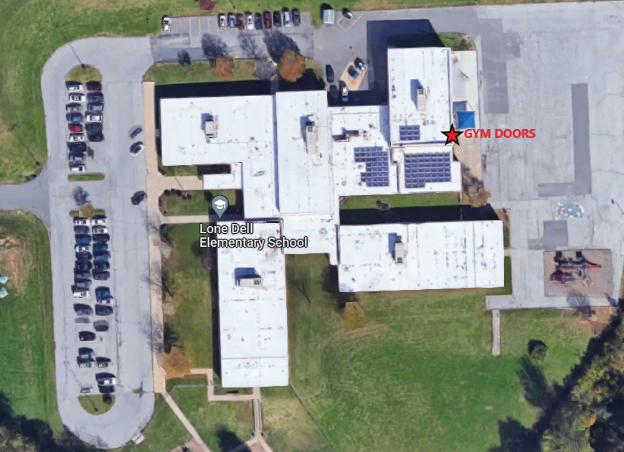 We would love to meet you!
As always, we would love to meet our new families whether you have a kindergartener starting school for the first time, new to the district, or transferring from another school within Fox C-6. We would really appreciate the opportunity to meet you at Open House. We will be around the building and outside at the front entrance. Please take a moment to introduce yourself on your way in or out.
If you have any questions, please feel free to email or call the school office at 636-282-1470.
Jim Ray, Principal
Paul Tramel, Assistant Principal